349 Users read it.
Mozilla Says "Ten F**king Days"
(August 16, 2007)
Ha.ckers.org talked with Mozilla about the issues they were finding and other suggestions ha.ckers.org might have. Mozilla feels confident that once things come to their attention it's simply a matter of days to close their security holes. The company claimed that they could roll out any critical patches within 10 days.
Read it at the external site...
To make his point Mike Shaver threw gave his business card with a hand written note on it, laying his claim on the line; Mozilla can patch and deploy any critical severity holes within "Ten Fucking Days":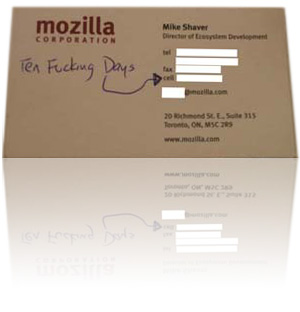 Many agree it is a pretty bold claim for a company of any shape or size. Officials from Microsoft and Amazon doubted that the patches would be of sufficient quality. If the company can keep its promise though it might set a good example for other browser manufacturers.