388 Users read it.
Yahoo! Widgets 4.5 released
(December 4, 2007)
Yahoo! Widget Blog announced the release of the latest version of Yahoo! Widgets. There are a lot of major improvements and an extended platform for developers to create richer and more powerful desktop Widgets.

Read it at the external site...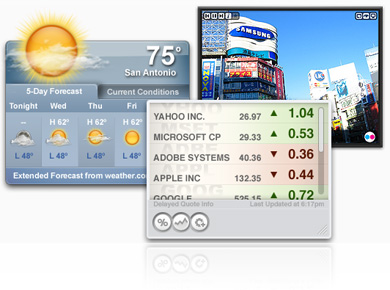 What's New for Widget developers:
Build even more engaging desktop Widgets, using new rich-media capabilities, including video.
Utilize existing web development (HTML and Flash) skills to build compelling desktop Widgets.
Offer users the ability to download their desktop Widgets from any webpage within 1-2 clicks via the new In-page installer badges.
Enable easier discovery by more users, via the new Yahoo! Widget Gallery with improved SEO.
Take a look at the Yahoo! Widget Gallery.