1229 Users read it.
Error when trying to use Paypal
(May 9, 2008)
Question:
---
When I am trying to use Paypal to purchase an extension I am getting an error that my browser does not support cookies.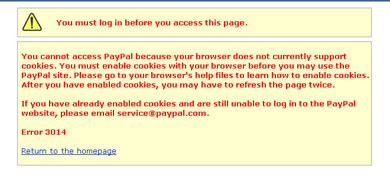 ---
---
Answer:
---
When you are using Internet Explorer 6 and PayPal
You can solve this as follows:
Go to Tools -> Internet Options, click on the Privacy tab

click the Advanced button, and then click the checkbox that says "Override automatic cookie
handling"

Then they click OK to close the "Advanced Privacy Settings" dialog box and OK to close the Internet Options dialog box.
After setting this please try the purchase again
Kiril Iliev started his career as a PR manager for a Bulgarian game software company and later on started working for Dynamic Zones - the company behind the zones network.

He has written a lot of articles for one of the biggest computer magazines in Bulgaria - PC Mania.

He works on various projects including PHP, CSS, and ASP scripting and is support specialist at DMXzone.com.

As of April, 2008 Kiril is acting as Research and Development Manager, researching the trends in the new technologies, especially Silverlight and LINQ implementation