RChart for .NET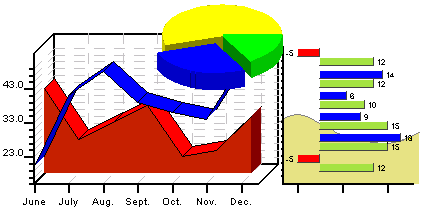 Windows and web .NET control for charting. The assembly has been developed in c# and supports more then 18 types of charts and combinations of them. It can be used in a windows or in a web application and supports interactive features like zoom, scroll, tips , actions and html links. The source code can be adquired.
The main features are:
- New Markup Language for labels
- Any number of axis
- target zones in chart and axis
- Notes
- pattern and gradient Filling
- Configuration of fonts, color, styles, layout ...
- More than 75 named colors and RGB support.
- Realtime features (updatable chart)
- It can export to gif , jpg and png
- Database Data population
- Zoom and scroll
- Right/Left Y Axis
- Rotated labels
- Automatic scales/ticks
- Logarithmic scale
- Date/time based scales
- Automatic date labels
- Click on objects and trigger events
- Transparent fillings
- line with width and style
- Tips
- Non continuous lines (null values)
- Background images and points
- Grids
- Listeners for interactive charts
- Position of legend
- Can create image Maps for web applications
- Read chart from URL
- X scale on top ...
Read it at the external site...
RChart for .NET is an assembly developed in c# which can create several types of Charts. It includes a windows control and a web control for use in windows and web applications.
The assembly can be used with c# , vb.net or any other .NET language.
RChart 2 has undergone a major redesign and now provides new features including the label definition language, target zones, multiple axis, improved interactive features and examples.
The following list gives you an overview of the benefits of using RChart:
- Powerful: Many configuration (new markup language for labels) and interactive features and charts.
- Flexible: It can be used in many scenarios, as control in windows application or in aspx pages in web applications.
- Low risk: Source code is available and the license agreement is not restrictive.
- Low investment: Very reasonable prices starting at about 27 Euros (about 35 USD).
| | |
| --- | --- |
| Language: | C# |
| Platform: | Web, Windows |