Premium Content articles are the very best articles from the world's leading internet technology, subject-matter experts. We have many categories of content below on a wide variety of subjects that has all been commissioned from both big name authors.
894 Users read it.
Photoshop CS2: Extraction, Smudge, Heal, and More
Although Photoshop CS2 offers a few perks more than Photoshop 7, some of the same tools to retouch photos are unchanged. The Extraction tool, which helps to eliminate a background, is found as early as Photoshop 6. Healing, Patch, Smudge and Blur tools are also found in earlier Photoshop versions. In this tutorial, Linda illustrates when and how to use all these tools and more as a means to either retouch or to alter photographs.
Price $2.79
555 Users read it.
Photoshop CS2: Retouching in Channels
In the last tutorial, Linda explained how you could alter your images with levels and curves through adjustment layers. In this article, she shows how you can retouch your colour images through colour channels. This option allows users to change values, tones, and colour through channel modifications. An added bonus is that artefacts, or blemishes, can be reduced through the colour channel option as well. And, when that option doesn't work, you can use colour channels to pick the best option for a black and white photo…
Colour Channels: The Hidden Realm
Many photographs might call for simple adjustments to the overall picture, such as a simple tonal and value alteration in photograph below: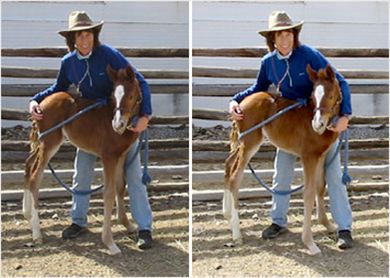 The image at left was a little too dark in the shadows and the owner wanted to emphasize the filly a bit more. I brought up the mid-tones and reduce the shadows with the simple addition of a new adjustment layer for levels. Now the horse is more vivid and the details are more solid in the horse (more about adjustment layers and levels in the previous article).
But, other photographs – like the 1960's era photograph below – call for more detailed work, and a simple adjustment layer just doesn't cut the cake. The image below, for example, was altered with the same method that I used above with the following results:

Price $2.79
612 Users read it.
In this article, Linda illustrates how to merge images and type to create a jewel case insert for an imaginary client. In a step-by-step process she includes information about how to create paths with the pen tool, how to use these paths for text, and shows how to create a burned edge effect around an image by creating, saving and loading a selected area. Along the way she includes tips on how to make your workflow proceed faster as you begin to create this project or other projects that include type and images.
Price $2.79
1194 Users read it.
Photoshop CS2: Finalizing the Fantasy Landscape
In the previous Photoshop CS2 article, Linda began to demonstrate how to build a fantasy landscape from several seemingly disparate objects. In this article, she wraps up that landscape with demonstrations in how to use several filters and blending modes to achieve the final result, a layout based upon the Rule of Thirds. Some of the other tools that you'll use in this tutorial include the "Highlight/Shadow" adjustment and healing tools, Colour Channels, and the Lens Correction Filter.
Price $2.79
747 Users read it.
Photoshop CS2: How to Build a Fantasy Landscape
In previous Photoshop CS2 articles, Linda illustrated how to use a variety of selection tools to select portions of images to remove them, to move them, or to alter them with filters. In this first of a two-part series, Linda begins to build a fantasy landscape with images extracted from several photographs. She then alters the resultant layers with filters and blending modes. Not only will you learn about some Photoshop CS2 tricks, but you'll use some composition guidelines to build this fantasy land. The photographs with the images already extracted are included at the end of this article so that you can play along.
Note: the update contains a new psd file with the original photo's
Price $2.79